Following Carlos Tevez's announcement that he will be leaving Boca Juniors at the end of the current Copa Libertadores campaign, he will be drawing the curtain on a career that he will look back and cherish.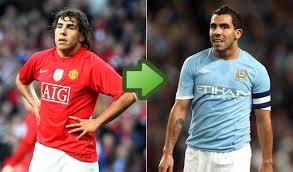 The former Argentina international enjoyed a rich career playing for some of Europe's top clubs including Juventus, as well as the two Manchester clubs; City and United. While he will remain in history books as part of one of Manchester United's most lethal forward combinations in the last decades, he won't go down well as a legend amongst most Red Devils fans given how he left the club.
In his career, the 36-year-old won a host of trophies for the trio
of European clubs he played for listed above, as well as a league title with Boca Juniors whom he currently plays for.
He was also instrumental in Argentina's Olympic Games success in Athens in 2004, helping his national team side clinch a gold medal at the event.
In the English Premier League, Tevez played his best football and was regarded as one of the most dangerous strikers during his time there given his hungry eye for goal and his ability to find the back of the net from even the tightest of angles.
He joined Manchester United in 2007 after helping West Ham United stay up in the league. He joined on a two-year loan deal and joined an attacking line that already boasted the likes of Louis Saha, Wayne Rooney, and Cristiano Ronaldo.
Following his move to United, he blended into the team perfectly and played just the way Sir Alex Ferguson had wanted. In his debut season, he scored an impressive 19 goals, helping the club win the Premier League and Champions League trophies.
Tevez however left United in a disgraceful fashion and joined the club's neighboring rivals Manchester City, angering fans in the process. He enjoyed a fair share of success at the Etihad but can't be compared to what he had at United.